Child-Safe Blinds For Primary Schools, Nurseries and Playgroups
VBC Premier Blinds offer blinds and shutters for a wide range of educational institutes and organisations. With each building, room and age group, comes different requirements for blinds. Our Lincolnshire blinds specialists are here to advise you on which blinds we recommend for you and we offer support throughout the purchasing process. From initial ideas and consultation, to concept, design and finally fitting your blinds.
Why is it important to have child-safe blinds?
Where infants or young children are involved, it is crucial to ensure that child-safe blinds are fitted. Unfortunately, toddlers and babies have been harmed or even killed as a result of unsafe blinds and getting caught in cords. VBC Premier Blinds offer a wide range of child-safe blinds for nurseries, reception blocks and early key-stage years at Primary Schools. Our specialist child safety blinds are designed without any looped cords or chains and are installed with a child-safety device.
Our child-safe school blinds are available in a variety of styles and colours, from bright roller blinds to a simple white pleated blind. We also offer a nursery blinds in various designs, including princesses, dinosaurs, fairies and cars, which are popular with playgroups or early infant care groups. We will advise you on which blinds are best for each room, as this will vary. For example, you may choose vertical blinds for a school hall and a sturdy roller blind for the classroom. We also know how damage-prone children can be, so we will help to choose materials that offer maximum durability.
Blinds For Secondary Schools
During some of the most important learning years of their lives, it's important to provide young people with a good classroom environment, free from any distractions. Choosing the right classroom blinds can have a surprisingly big impact on concentration. After all, nobody wants to be sat with the sun glaring in their eyes or shivering during the winter. Our secondary school blinds can help insulate or regulate temperature in your classroom, as well as allow light control during the brighter months.
If your school building is due new blinds, we can work with you to create a great value quote for blinds that are best suited to each room in the school. One solution won't always fit all, as it depends on the size of the room, the purpose of the room and the location of the room (i.e. shaded or exposed to sunlight), which is why it is important to carefully assess your options. But worry not, as our Lincolnshire blinds experts will offer support throughout your blinds selection, design and fitting process.
Like younger children, we know that older children can often leave a path of destruction behind them too, which is why we offer a variety of materials and will suggest the most durable ones, so that you won't be required to place school blinds every year. Our safe school blinds are available in a range of colours, styles and designs to suit the building decor and requirements.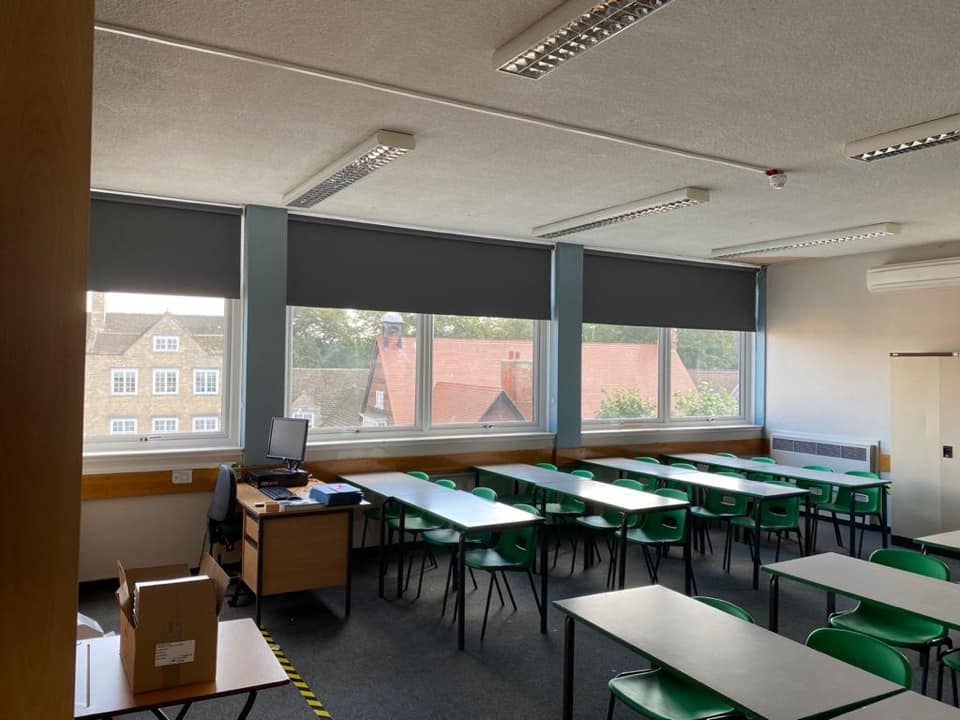 Blinds For Colleges and Universities
College and university buildings are often large in comparison to schools, meaning a lot more rooms and people to please. We work with you to find the best university blinds for your building, including blinds for lecture halls and seminar rooms, as well as blinds for main buildings and reception areas.
With an older cohort, stylish and sophisticated blinds become a more popular option. Not only this, but appearances often give the first impressions when a visitor attends a college or university open day, so give your building the edge with our top quality blinds. Our range of blinds for universities and colleges are not just nice on the eye, but they're incredibly practical and durable too, offering great value for money.

Our Lincolnshire blinds experts will work with you to deliver fantastic blinds that suit your requirements and budget. Choose from various blinds styles, including pleated blinds, vertical blinds, roller blinds, vision blinds, venetian blinds and much more. Click
here
to view our entire range of made to measure blinds.