At VBC Premier Blinds, we offer exceptional blinds and shutter solutions for a variety of commercial clients, including colleges, offices, shops, takeaways and more. Our business blinds experts will work with your organisation to create a solution that works best for you, from consultation to manufacture and installation. We offer a variety of styles and materials, as well as automated options to suit your premises.
Below, we have provided just a few examples of some of our recent commercial blinds clients to provide some inspiration.
Blinds For Commercial Businesses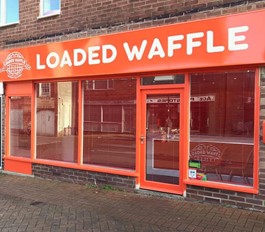 As commercial blinds suppliers, we offer an exceptional variety of business blinds, in different styles, shades, fabrics and designs! From pleated blinds for high street front businesses, to stylish roman blinds for a beauty salon, we have blinds for businesses of all natures. We also provide commercial motorised blinds for shopfronts.
One of our most recent commercial blinds clients was Re-Loaded Waffle in Grantham. This client needed a solution that matched their brand colours, let in natural light but limited sun glare. We provided pleated blinds in a colour which perfectly matched their shop front signage colours.
Blinds For Offices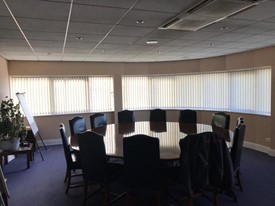 It is important for your office space to have quality blinds that let in natural sunlight, without causing glare off computer screens or causing staff to overheat in the summer.
Our vertical business blinds offer a stylish solution which allows light to be controlled easily by those working in the room.
At VBC, our commercial blinds specialists will work with you to find a style that best suits your needs, offering expert guidance for factors that you may not have considered.
Blinds For Schools and Classrooms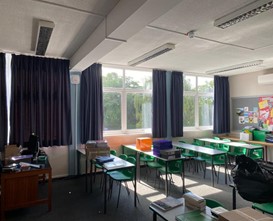 A good classroom environment is crucial for teaching and for learning. Ensure that students are comfortable by installing blinds that help with room temperature and control of sunlight. We can offer a variety of school blinds solutions, from simple vertical blinds, to versatile pleated blinds. VBC know that classroom blinds need to be practical and reliable, which is why we offer a variety of easy-to-manage, easy-to-clean blinds and shutters.
To find out how we can help with blinds for your business, or perhaps a bespoke shutters solution, get in touch with our Lincolnshire blinds specialists today by calling 0800 0830 751, emailing [email protected] or click here for more details.