Looking For Conservatory Blinds Online?
At VBC Premier Blinds, we offer a wide range of blinds for conservatory windows, in various styles, colours and fabrics. Choose from simple pleated conservatory blinds, classic conservatory roller blinds or modern conservatory venetian blinds, to name just a few of the options to choose from! We also offer skylight conservatory roof blinds, which are great for keeping out excess sunlight during the summer and helping with insultation during the winter.
If you're unsure on which style is best for your conservatory, then our Lincoln blinds specialists can offer their recommendations during a free home consultation, or you can check out our portfolio at our Grantham blinds showroom.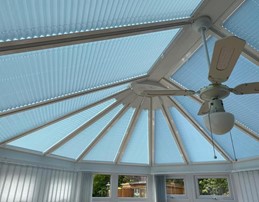 Remote Control Conservatory Blinds: An Automatic Solution
If you're looking for technology for ultimate convenience in the home, then our electric conservatory blinds are a must-have! Not only will it save you getting up on your feet and pulling at cords when you should be relaxing, but it makes for a great show-off feature when you've next got friends over for dinner.
Our motorised conservatory window blinds are suitable for roller blinds, vision blinds and visage blinds, which you can choose from in a variety of colours and fabrics. We offer three motorisation options, which each come at different prices and with different benefits, so that you can choose the most appropriate one for your home. Our Skylight conservatory roof pleated blinds can also come with motorised operation. Find out more about our remote control blinds in Lincoln by clicking here!
We Offer Bespoke Conservatory Blinds
What sets us apart from other Lincoln conservatory blinds suppliers, is that our best conservatory blinds are all made-to-measure, to create a perfect fit every time. Our blinds fitters can visit your home, do the measurements for you and fit them too â€" a seamless experience throughout!
Every home is unique, so whilst a friend might have some stunning conservatory roman blinds, you might fancy something a little different, like our vertical conservatory blinds. We'll make sure that we find the right blinds design to suit your home and your décor, matching colours, prints and fabrics to fit in with the style of your room. Why not try one of our Perfect Fit conservatory blind options?
Get in touch with us today to find out more about our perfect fit conservatory blinds- We look forward to speaking with you!