Make working from home happier with stylish office blinds
Post-lockdown, many workers have adjusted to a working from home lifestyle. Employees have noted advantages such as increased productivity, better work-life balance, and decreased expenditure when they work from home. If you're one of these people who have opted to remain working from home, make sure that your home office is properly fit for purpose with our best home office blinds- Afterall, a good working environment allows you to work to the best of your ability. Essentials for your home office includes a sturdy desk, good Wi-Fi connection, necessary equipment, and our high-quality home office blinds.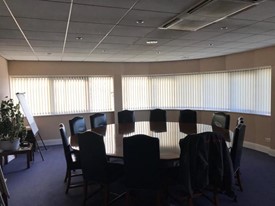 Bespoke Blinds For Home Offices
Home office blinds help with light control and temperature regulation so that you can work in comfort. It's important not to be working in the dark, but nobody wants the sun glaring in their eyes whilst they're trying to look at their computers. Get great light control with any of our fantastic home office blinds options, including our office vision blinds, office roller blinds or office vertical blinds. We offer a wide range of colours, styles, materials, and patterns so that you can find something that complements your room.
Click here to book a free blinds consultation for Home Office Blinds In Lincoln!