Bespoke Window Shutters
Introducing our stunning range of British Made Shutters, exclusively tailored to elevate your living spaces. Each panel is carefully crafted and made to measure by our expert team, ensuring that every window is complemented with a perfect fit. The elegance of our bespoke shutters speaks for itself, with a variety of designs and finishes to choose from, you can transform any room into a sophisticated haven. Our team of blind experts in Lincolnshire are dedicated to providing a prompt and reliable installation service, leaving you with nothing but perfect window shutters and a smile on your face.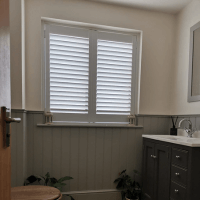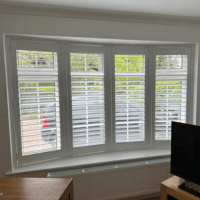 ---
Our Made To Measure Shutter Styles
Elevate the style of your living space with our range of British made shutters, these window shutters not only look chic but also offer flexibility and functionality. Our bespoke shutters come in a wide range of colours, frame types, and tilt options, making it easier for you to complement your interiors with the perfect set of shutters.
Tier on Tier Shutters
These window shutters are a fantastic addition to any home looking for adaptable light control, privacy and view options. These bespoke shutters are ingeniously engineered with two sets of panels that sit on top of each other to offer total versatility. The top and bottom panels operate independently of each other, so you can adjust the light and privacy for your space however you like. Not only that, but these Tier on Tier window shutters are also a stunning design feature, adding elegance and style to your windows. Whether you want to create a cosy and private bedroom or bright and airy living space, our British made shutters can help you achieve it.
Cafe Style Shutters
Our Café window shutters offer the perfect combination of privacy and natural light. With panels designed to cover only the lower section of the window, these shutters provide a barrier to outside eyes while allowing sunlight to stream in through the exposed glass above. Whether you're looking to add a touch of charm to your home or just want to enjoy the benefits of greater privacy and natural light, our bespoke cafe style shutters are a great choice.
Full Height Shutters
Our made to measure full height window shutters are a must have for anyone looking for a stylish and practical approach to window dressing. With the option to cover your entire window, these shutters are the ideal way to ensure that your home stays private, while letting in plenty of natural light. And if you need even more flexibility, there's the option to have the top third or half of your shutters operate independently from the rest. This allows you to control the amount of light and privacy exactly how you want it. With so many benefits, it's no wonder that our full height window shutters are one of the most popular choices.
Tracked Shutters
Tracked shutters are the perfect solution for homeowners looking for an easy-to-use and practical window treatment. Unlike traditional window shutters, our tracked shutters slide open effortlessly on a track system and concertina back for easy access. These versatile window shutters are particularly useful for patio doors, providing an elegant and convenient way to control the light and privacy in your space. They're also a great way to enhance the visual appeal of your home. With endless customisation options, our tracked shutters can be tailored to fit your specific needs, ensuring that your home looks and feels just the way you want it to. Whether you are looking for French door shutters to bay window shutters, why not choose out British made tracked shutters today!
If you are still not sure which shutters would work best for your room, pop in to one of our Lincolnshire blind showrooms or arrange a free home visit. Our team will guide you through the process and recommend bespoke made to measure shutters that will fit your space perfectly.