Made To Measure Bathroom Blinds in Lincoln
Are you looking for blinds for your bathroom online? We know that bathroom blinds need to be both stylish and practical, which is why we offer a large range of blinds for bathroom windows, so that you can find something perfect for you. Our range of best bathroom blinds includes traditional roller blinds, roman bathroom blinds, vision blinds, venetian bathroom blinds and so many more. As well as a variety of blinds styles, we offer our made to measure bathroom blinds in a wide choice of colours, patterns and designs. Take your pick from pretty pastels, simple monotones or a bright and colourful blind! With so much on offer, we're sure that you will be able to find a blind for your bathroom which perfectly complements your existing décor.
All of our bespoke bathroom blinds are made to measure, so that they fit nicely to your window space with a professional finish. Our Lincoln bathroom blinds specialists offer a free consultation service, so we can visit your home and make recommendations as to what we think would work best for your windows. Once you've chosen the best blinds for your bathroom, we bring designs to life and offer an expert fitting service.
Click here to book a free home consultation for bathroom blinds in Lincoln!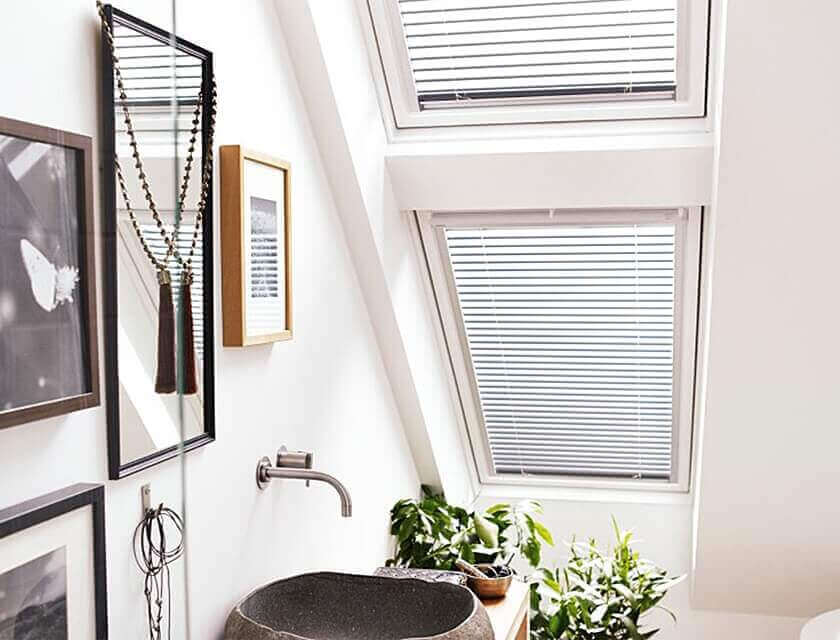 Shutters For Bathrooms
Blinds aren't the only option for your bathroom- we also offer a quality range of bathroom shutters to give a modern appearance. Bathroom window shutters are a stylish and versatile option for your home as they are available in a range of shades and materials to match your colour scheme. Our premium bathroom shutters collection includes a huge choice of gorgeous painted, stained and natural finishes. If you prefer to create your own style, then custom bathroom shutters can be created to explore tones that suit your taste.
Included in our range of shutters are our tier on tier shutters, café style shutters, solid shutters and shaped shutters, to name a few. Our made to measure bathroom shutters are created to have offer perfect fit into your window space, whatever shape your existing frame is. Our bathroom shutters offer fantastic light control and insulation, great for all seasons!
Click here to see our full range of shutters